A Cascade of Light in a Resonance Universe: Music of Ileana Perez Velazquez. Albany Records (2017)

Lightning Whelks for solo violin, cello, clarinet, piano, and percussion – Miranda Cuckson, and Nunc.
Night Songs for clarinet, bassoon, harp, and piano. Perfomers: Adrian Morejon (bassoon), Nuno Antunes (clarinet), Molly Morkoski (piano), and Jacqui Kerrod (harp)
Alma de Guije for String quartet (Momenta Quartet)
Light Echoes for piano and percussion. Piano: Doris Stevenson, Percussion: Matt Gold

An Enchanted Being: Music of Ileana Perez Velazquez(2008) Albany Records
Winged Goblins for String quartet – Flux Quartet
Wild wisteria for harp and piano – Julia Malkova and Mickael Granados
Encantamiento for piano – Sally Pinkas
entre la ternura y el intenso azul for cello Nathaniel Park
my sacred space for guitar – Iliana Matos
Cipres– L' Ensemble Portique
an enchanted being, salty waters, and infinite stones for 2 pianos and 2 percussionists – Williams Chamber Players
Available from Amazon.com.

From Chile to Cuba: Latin American Piano Music (2009)
Pola Baytelman Albany Records
Featured composers include  Ileana Perez Velazquez- Encantamiento,Heitor Villa-Lobos, Alfonso Letelier Llona, Pedro Humberto Allende, Alfonso Leng, and AlbertoGinastera.Albany Records Available from Amazon.com.

Sonidos Cubanos (2010) Innova Recordings
NODUS Ensemble performs music of Cuban composers. Featured composers include Ileana Perez Velazquez- Nanahual, Tania Leon, Keyla Orozco, Sergio Barroso, and Orlando Jacinto Garcia. Innova Recordings Available from Amazon.com.
 Fire Proof: Latin American Music for two pianos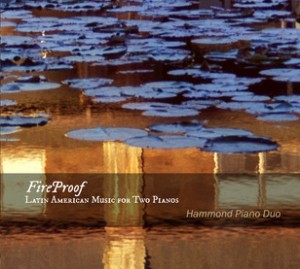 (2014) – Hammond Piano duo. Featured composers include Ileana PerezVelazquez- Auroras, Piazzola, Juan Orrego Salas, Alfonso Montecino, and Francisco Cortes Alvarez. Released by the Latin American Music Center of IU. Available from cdbaby.com
 Miranda Cuckson: Melting the darkness (Urlicht Audiovisual) (2014)
Available from  http://www.mirandacuckson.com/store/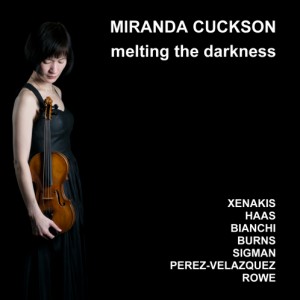 "Melting the Darkness"  has been selected among Downbeat Magazine's best albums of 2015